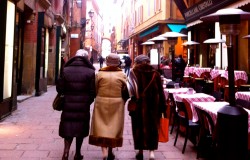 Posted on September 30, 2013 by Johanna Nuding in Change, Italy, Life, Personal Stories, Travel, Uncategorized.

On a recent Skype call with my sister (blood and soul) she told me about a study on why women tend to live up to five years longer than men.  In a nutshell, the findings supported the argument that women live longer due to the difference in the amount of meaningful social activity they have […]

Continue Reading... 9 Comments.