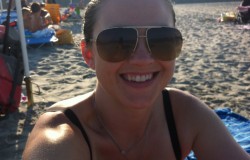 Posted on July 14, 2013 by Johanna Nuding in Italy, Travel, Uncategorized.

I spent a few days this week with my friend Kristi at her summer place outside of Ravenna on the Adriatic Sea in Punta Marina Terme.  She takes her two sons there in early June and stays until the beginning of September.  Her husband works in Bologna during the week and joins them for the […]

Continue Reading... Comments Off

on This Summer Is No Sweat!
Posted on July 9, 2012 by Johanna Nuding in Change, Italy, Travel.

I'm sitting in a bar as I write this post. A bar here is different from back home; it's more of a cafe. It's pronounced the same and there's the same interesting characters hanging around, but this one's got more going on and opens way earlier. I'm posted up at the only bistro table indoors […]

Continue Reading... 6 Comments.