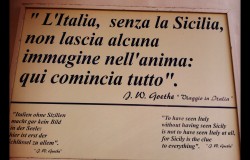 Posted on September 18, 2013 by Johanna Nuding in Italy, Life, Personal Stories, Travel, Uncategorized.

I noticed today it's been a month since my last update so I forced myself to sit down and write to you.  I've been doing a lot more living and a lot less writing this month; I know you'll forgive me for that. So… where to start?  How about my trip to Sicily where I […]

Continue Reading... 4 Comments.