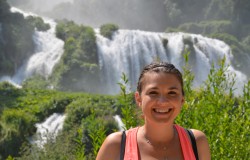 Posted on July 29, 2013 by Johanna Nuding in Change, Italy, Life, Personal Stories, Travel, Uncategorized, Unsolicited Advice.

And a very, merry un-birthday to you! "Twinkle, twinkle little bat, how I wonder what your at…" I woke up from crazy dreams at 10:30a hot as f*ck. It felt like my back was on fire, but it was just 100 degrees outside and I don't have an a/c. I sleep in a dryfit sports […]

Continue Reading... 4 Comments.